Marketing isn't only about what you can do to inspire new travelers to pick you as their ultimate holiday destination, it's also about maintaining a great relationship with past guests and encouraging repeat visits. It can also be used to gather information to ensure your guest has an amazing experience with you. Creating and maintaining guest loyalty is all about knowing your guest. What can you do to really know your guests? Use ResRequest to capture a range of guest information and use the data to drive targeted marketing campaigns and create personalised experiences.
For more information on guest relationship management and its benefits see the Functions of GRM tutorial.
How is guest information captured
The Guest Profile
The Guest Profile provides the base for recording guest information. It can be accessed from various areas in ResRequest but updating information from the reservation or Rooming calendar is the norm. Entering your guests details on the Guest Profile ensures that their Trip History is recorded on their profile. For more information on recording the guest profile and travel history, see the Guest Profile and Guest Travel History tutorials.
Briefly review how to enter guest details from the reservation.
Search and find the booking.

Go to the Rooming tab on the reservation.

Click on the guest button .

A pop-up will appear for you to search for or add a guest.

If it is a repeat guest, search and Import their info as their details will already exist in the system.




This will populate the guest name and take you back to the rooming tab.

Click on the guest name.

This will open the Guest Profile and you can add further details pertinent to this guest and their stay.

If this is a new guest, Add New Contact.




By adding a new guest, the Guest Profile appears for you to capture their basic information such as names and a contact method although all the guests info can be captured if you have already obtained it.

The Trip History is accessed from the Guest Profile.
Briefly review how to enter guest details from the Rooming calendar.
Navigate to the Rooming calendar.

Select the reservation and click on the 'Add guests' button.

If it is a repeat guest, search and Import their info as their details will already exist in the system.

Add guests names, once saved, select the guest icon that appears to access the Guest profile.
Guest information is generally captured at the lodge so it is vital that all members of your team know what is expected of them and accurately capture the information you need.
Customise data fields
The Guest Profile and Trip History can be customised to record information specific to your business needs. Just ask your system administrator to change, add or delete fields in the Customer relationship management code table to make use of this functionality. Take a look at the Guest Profile tutorial to see how to create and edit these fields.
NOTE: The guest nationality should be captured even if you have captured this on the reservation as there are specific reports for reservation history and guest history.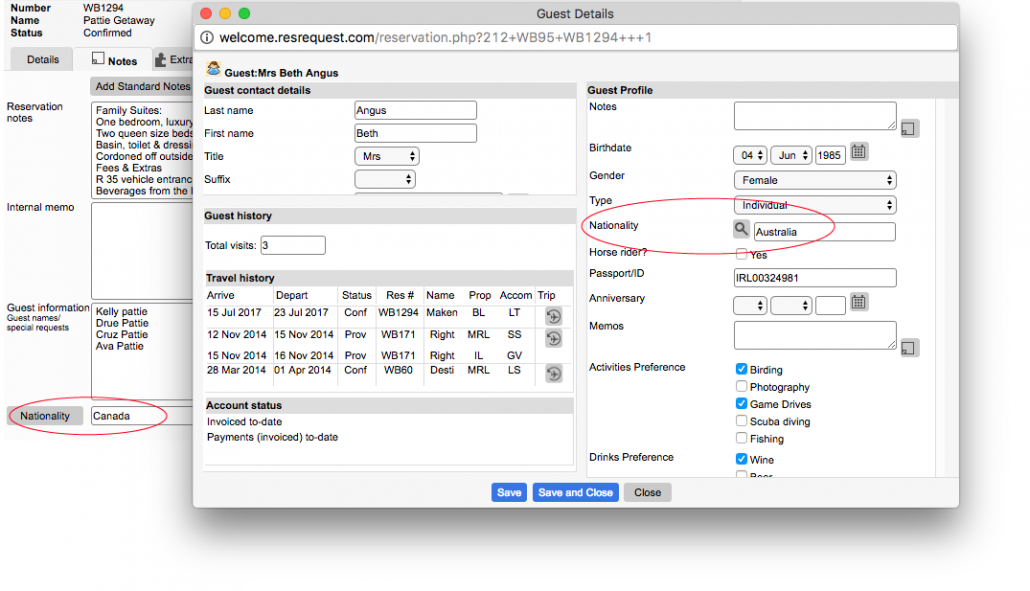 Using the data
Use the data to report on guest and travel details as well as sales trends. Take a look at the GRM reporting tutorial for details on how to report on guest information.
Interface to a Guest survey tool to send guest surveys from ResRequest or export guest information to campaign managers for personalised mailers. Take a look at the Marketing Tools module for more on how to utilise these great features.